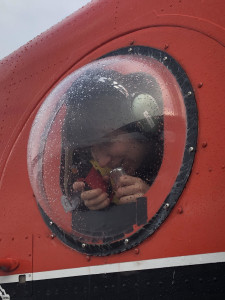 Our team flew an aerial survey for cetaceans in the Canadian Arctic in the summer of 2020, using four observers split between two platforms on a DeHavilland Twin Otter aircraft. Our observers used the Pi Geometers, equipped with laser gunsights, and all connected by USB cables to two laptops that were monitored. This is the second year we have used Geometers.
The Geometers were integrated with the Mysticetus software, for triggering each sighting record, and the measurement of observation time, location, and declination angle. The Geometers performed well over the course of the survey and in combination with Mysticetus provided an efficient and consistent means to collect real-time sightings data. The observers enjoyed using the Geometers and greatly preferred using them compared with the analogue clinometers.
In summary, our experience with using the Pi Geometers has been very positive. In my opinion the Geometer increases the ease and accuracy of collecting sightings data. In conjunction with the Mysticetus software, we plan use the Geometers on our future aerial surveys.
August 11th 2020
Tannis Thomas, Senior Marine Biologist
Golder Associates Ltd.